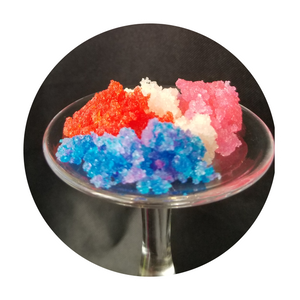 Our Handcrafted Lip Scrubs are made to exfoliate your lips and to keep your kissers moisturized and hydrated. This is a product for the Ladies and Guys. Choose your favorite scent and scrub away. There are .5 ounces of lip scrub in the container.
Ingredients: Sugar, Avocado Butter, Honey, Vitamin E, Coconut Oil, Grapeseed Oil, Vanilla Extract, Flavoring, and Coloring! The benefits: Sugar: an effective natural exfoliant! Avocado Butter:  hydrant and Antioxidant! Honey: natural moisturizer! Vitamin E: generates new skin cells and moisturizes! Rosehip Oil: moisturizer, hydrant, & inflammation reducer! Castor Oil: Moisturizer!

Directions: Wet lips then gently place a small amount of our sugar lip scrub onto your lips with the included mini spatula or with your finger.  Scrub lips in a circular motion for approximately 20-45 seconds 1-2 times per week.  Please remember that the lips are delicate and should be treated as such. Do not over exfoliate lips. Remove excess sugar with a soft towel.  Follow your scrub with a lip balm such as the Glossed Up by Nicole beeswax lip balm or our moisturizing lip oil. The lip scrub routine is best performed at night.
Please remember that this is a handmade product and no two are identical. Please allow for variations in color as compared to product listing photos and/or previous orders.

ALLERGY WARNING: People with skin sensitivities or allergies should test the scrub on a small spot of the lip and stop using it if any irritation occurs.